Meet the Alpine Fishing Adventures Crew!
Randy Ford – Owner/Operator/Year-Round Guide
Randy is a 4th generation Colorado Native! He started Alpine Fishing Adventures in 2014 and, as a full time guide, consistently shares his enthusiasm for all types of fishing with every level of angler. He has a wealth of knowledge and gives you his all when he takes you on the boat, out fly fishing or ice fishing!
Austin Albright – Year Round Guide
Austin was born and raised in Fairport, NY.  He has fished his entire life and has spent most of his free time on the water whether it be on a boat, out on the ice or chasing fish with a fly rod.  Back home, perch and walleye are his favorite species to target because they are his favorite to eat!  Since he has been in Colorado, he has learned to love getting after Arctic char because of the uniqueness of the fish.  When Austin is not fishing, he operates snow cats in the winter at Vail or skiing.  Besides chasing fish in the summer, he enjoys hiking, kayaking and mountain biking!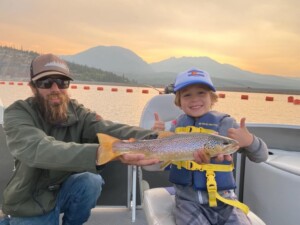 Jeremy Bernadelli  – Year-Round Guide
Jeremy is a year round guide that will put you on fish all year long! When he isn't guiding he is hiking to high alpine lakes seeking out the aggressive Colorado cutthroat trout! This season it seems that every moment Jeremy hasn't been sleeping or guiding, he has been out ice fishing. He's even spent a night or two sleeping and fishing on the ice!
He's all about catching the bigger and better fish on the lake and at this very moment he is out there scouting a spot in a far off location of Lake Dillon.
Cameron "Backwoods" Barrie – Lady in the "Office"
Cameron is a born and raised Colorado Native but now spends her time traveling through the west and fishing. Cam enjoys mountain biking and painting European mounts.  She is an excellent outdoors woman and a stellar fly angler.  If you call to book a trip she just might be wading in the river while booking your trip!
Caitie Kiefer – Ice Fishing Guide
Introducing Caitie Kiefer, our new ice fishing guide! She works as a raft and outdoor adventure guide.  She spends her time riding her horse and has a great personality!  She is truly a rockstar when it comes to high alpine climates through the winter!
Ryan Grogg – Fishing Guide
Hailing from Lee Center, NY – Ryan spent most of his time growing up on his grandpas bass fishing boat.  At 4 years of age, his Grandpa started to take him fishing for big smallmouth and largemouth bass and that was all he wrote.  As he grew older, the Rocky Mountains of Colorado called to him.  After doing research on all the type of fishing Colorado had to offer, he packed up and headed west!  Ryan has an awesome attitude and we are stoked to have him on board with Alpine Fishing!