WELCOME TO ALPINE FISHING ADVENTURES
Alpine Fishing Adventures is rated the best guide service on Lake Dillon and offers fully guided ICE FISHING TRIPS, PONTOON FISHING CHARTERS, and FLY FISHING TRIPS on scenic Dillon Reservoir near Breckenridge, Keystone, Frisco, Silverthorne, and Vail, Colorado.
While on a fishing trip at Dillon Reservoir you can relax and take in some of the best mountain views around.
Our ice fishing trips and pontoon boat charters can accommodate families with young children, parties and groups, and those with special needs. KIDS 10 AND UNDER FISH FREE! We offer the best price/value on Lake Dillon with our 3 hour or 4 hour trips! We also provide fishing charters and fishing trips for the serious and accomplished fisherman with our  5.5 hour "Black Diamond" trip options.
Our waters are loaded with Kokanee Salmon, Arctic Char, Brown Trout, and Rainbow Trout. You can try your luck with Salmon or Rainbows to take home for dinner, or catch and release our unique Arctic Char and trophy Brown Trout.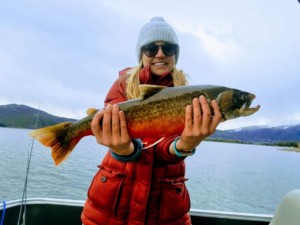 Our client, Lindsay Regali, caught a Colorado State Record ARCTIC CHAR at 23.5 inches and 4.15lbs on 11/16/17!
For information on purchasing fishing licenses, please click HERE.
BOAT CHARTERS
Our pontoon fishing boats are spacious and comfortable
BOAT CHARTERS
Our pontoon fishing boats are spacious and comfortable. We will take you to the hottest fishing spots to explore Lake Dillon. You will take in some of the most beautiful views Colorado has to offer.
We provide all equipment and tackle needed.
Fly Fishing
Colorado Fly Fishing on Lake Dillon at it's Finest!
Fly Fishing
We offer walk wade fly fishing trips at the Snake River, Ten Mile Creek, and Blue River inlets.
We provide instruction on use of fly fishing equipment, casting technique, and fly selection followed by 2 hours of on-the-water guided fishing.
Best fishing trip EVER
First time fishing, and having Randy as a guide was the best. We caught tons of fish and he knew the right spots. I highly recommend Alpine Fishing Adventures.
Visited September 2015
Excellent Ice Fishing Adventure
My wife and I went ice fishing with Randy. He was very professional and really knew his stuff. It was in the middle of a snow storm and he was there bright and early ahead of schedule with everything set up for us to use. We were comfortable in the heated tent set up on the frozen water. We caught a TON of fish. I'm not sure anyone can really promise the fish will bite, but they sure did and we caught more than anyone around us. He uses his fish finder and we can see when fish are in the area and how deep they area. He had more than enough poles and was constantly re-baiting our hooks for us and giving us advice. It was a great time and my wife is so happy we did this. I highly recommend using Alpine Fishing Adventures. You won't be sorry.
Visited December 2015
Fun Ice Fishing Trip

I was looking to get Kokanee, though it was a bit late in the spawn. Mike was waitng in the parking lot with holes drilled and a warm tent set up. We managed to catch 4 Kokanee, about 15 little rainbows, and a sucker in a half day. It was my first time ice fishing, but it wont be my last.

Visited December 2015
Jason F. - Boulder Colorado
One of my favorite memories!
First I want to say that Randy was an amazing guide! I purchased the ice fishing adventure as a present for my boyfriend while we were in Vail, and we both walked away extremely happy with the experience. Randy was attentive, and very fun to be around. Not only did we catch 16 fish, but he educated us on the art of fishing, the area, the fish we caught, and honestly, I walked away with a new appreciation for the fishing world. I highly recommend contacting Randy...and the best part... its affordable!
Visited February 2016
Hannah - Hoboken, New Jersey
We had an absolute blast

.
Had a great time with my family. Was very professional and patient even with younger fishers. Highly recommended if you look to fish in Frisco.
Awesome time. Randy really knows what he's doing and where to find the best fishing spots. If your looking for a good time in the Frisco area you should definitely try this.
This was such an awesome experience we took our whole family on one of these trips and absolutely loved it Randy was awesome and very patient with the kids he really knows his fish we all caught a mess of fish so if your wanting to catch fish you won't be disappointed and as for the price you won't find a better deal in frisco trust me I did my research we will be booking again soon
My family had a great time with Randy and Sherry. We learned a lot and caught 3 salmon and a nice rainbow trout. My two teenage boys really enjoyed themselves. Thank you guys!
My family and I had an amazing time with Randy he was very helpful, lots of knowledge about fishing and great with all my boys. He spent extra time with my youngest and made sure he caught a fish, knew how to bait the hook and pop the line to attract the fish. I would recommend Randy highly!!!